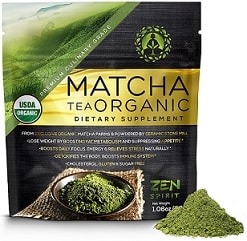 Green teas are generally known for their numerous health benefits, and the Zen Spirit's matcha green tea powder is not left out in this.
This is one product that is known to detoxify the body system from unfriendly materials.
It has also been found to promote weight loss and it does this by boosting fat metabolism, lowering blood sugar and cholesterol levels in the body.
A well-researched analysis as well as some users have come out to say that this 100% herbal tea is capable of boosting daily focus, relieves stress naturally, increases energy levels, reduces skin aging and at the same time helps protect the body against diseases.
This 100% organic tea powder is perfect for making your favorite cakes and smoothies, brewing your delicious latte and perfect for preparing your herbal and iced teas recipes. It is also a perfect ingredient or a great addition to steak tenderizers.
The Zen Spirit Matcha green tea powder comes in 2 flavors and 2 sizes. The two flavors are the premium culinary and the culinary with two sizes of 30g and 100g.
About Zen Spirit Matcha Green Tea Powder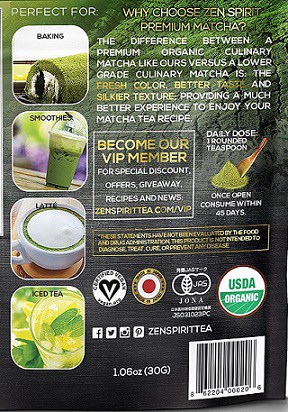 A 100% Japanese premium culinary grade matcha green tea powder by Zen Spirit is an organic tea that is JONA, Vegan and USDA organic certified.
This formula is harvested in Japan and also packaged from its exclusive organic Matcha farms.
Powered by Ceramic Stone Mill, the Matcha tea organic is an excellent source of amino acid and antioxidant which has EGCG and L-theanine.
And, at the same time, it is cholesterol, sugar, and gluten-free.
The leaves of Zen Spirit's Japanese tea are grown strictly in the shade to increase the content of chlorophyll in it.
For production, the leaves are hand-picked, heated, dried and then they are grounded into smooth and fine green powder form. This is what makes up the Zen Spirit matcha green tea powder 100% herbal and natural.
Benefits and who the product is for?
The extensive and numerous benefits of matcha green tea include the following:
A special kind of antioxidant which is contained in the matcha green tea is able to remove free radicals that are capable of causing cancer in the body.
Also, EGCG, known to be amongst the most powerful antioxidants, can be found in matcha green tea and has 137 times greater concentration when compared to regular green teas.
Lowers Blood Pressure and Cholesterol
The pure organic tea in a 2011 study which was published in American Journal of Clinical Nutrition shows matcha can significantly reduce cholesterol level which improves blood pressure and circulation in the body.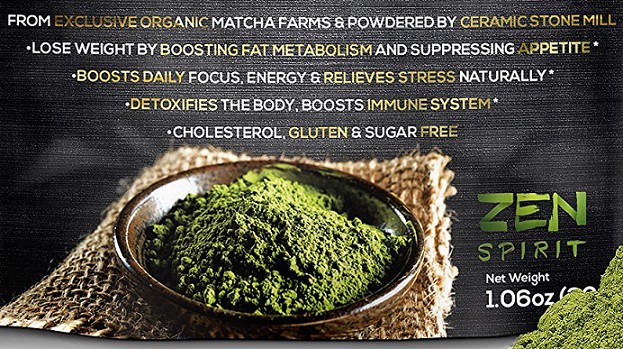 L-theanine, a property of this green tea is an effective amino acid which helps to promote alpha wave activities in the brain. In a nutshell, matcha green tea powder helps in the improvement of the health of the brain, relieves stress and optimizes a variety of brain functions.
The Matcha tea organic helps to supply the body with energy and this is why it is referred to as an energy booster. One property that is responsible for much of this in the matcha green tea is its thermogenic property. However, the other nutrient present in this green tea also helps support energy levels.
Researchers have made some documentation on the benefits of the matcha green tea and have given an estimation that green tea is to able to increase thermogenesis rate by 8-10% when resting.
Furthermore, and according to a recent study documented in the American Journal for Clinical Nutrition, the use matcha green tea increases the rate of fat burn by 25% during exercise. So, whether you are resting or exercising, the matcha green tea helps you burn fat.

Proof that the product works!

Customers have come out to speak about their satisfaction and admiration of Zen Spirit Matcha green tea powder. Most importantly they are glad that this pure organic dietary supplement can be prepared as part of a delicious recipe for the making of breakfast, cakes, latte and so on.
Customer safety and trustworthiness are the main focus of its production and that is why this Zen Spirit dietary supplement is made of 100% pure organic and contains antioxidants.
More than 2000 customers have given this product an average rating of 4.5 stars out of a possible 5 stars. This is just enough to tell you how effective this product is.
That score is quite more than average and is enough to give you the assurance you need (you can confirm this rating see other verified purchase review from users on amazon.com).
How to prepare it?
The premium matcha can be prepared as a traditional Japanese beverage by simply mixing it with hot water. But for the culinary grade matcha, it was mainly produced to be a part of a delicious recipe for the preparation of:
Smoothies
Breakfast
Iced Teas
Cakes
Organic energy drink
Lattés
You check the recipe for Matcha Mango Smoothie, Matcha Cupcakes, and Matcha Pancakes here.
The Side Effects
There are no real side effects to the matcha green tea even when taken too much. Unlike conventional green teas, the matcha green tea does not contain caffeine but not enough to cause jitters. Even when you are very sensitive to caffeine, you still won't have the negative side effects.
Having said all that, you can consume 2-3 cups of green in a day or even more.
There is because it doesn't contain enough caffeine that can cause a potential side effect even when you have too much to drink in a day. But when you do, you just might only end up with a headache, heartburn or develop jitter.
However, when you take the recommended dose of just a cup or two in a day, you should have no side effect.
My Final Verdict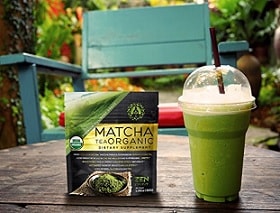 Product Name: Zen Spirit Matcha Tea Organic
Price: Check here
Brand: ZenSpirit
Quantity: 30g (1.06 oz)
Money Back Guarantee: Yes it does!. 100%, no questions asked.
The Zen Spirit Matcha green tea is a professional when you consider its extensive health benefits and impacts.
It has been proven to improve all aspect of the human health which is why it is one of the few dietary health supplements available in the market that has been well researched.
If you are a season tea drinker, I recommend this green tea for you and you can get it from a trusted tea shop or an online store that sells 100% pure and unsweetened green tea.
This ensures you purchase a quality and the strongest matcha green tea.