Living a healthy life is quite challenging and demanding because you do a lot of things and find it difficult to maintain the tedious lifestyle. It's not like there aren't people who can workout, take protein shakes and be consistent with the right diet; there are.
However, there are equally other ways (and in most cases easier) to live a happy and healthy life and one of them is by taking natural green teas.
Green teas are usually natural teas made from nutritious plants, planted in different areas of the world.
Even though the teas are mostly planted in Asian countries, the usefulness of the teas has sold them so much that different people from the world look for them, conduct research and turn them into consumable healing and healthy living therapy.
About VAHDAM Organic Green Tea Leaves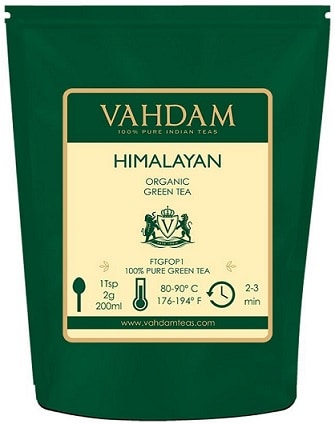 There are indeed a lot of teas on the market today but the Vahdam organic green tea is one of a kind. No artificial ingredients, just pure natural herbs from the Himalayas.
Regular green teas either come in bags or powdered form but this tea comes in its natural form with a combination of different plants to increase its potency.
The Vahdam organic green tea leaves, also known as "loose leaf green tea" is 100% a natural green tea with natural antioxidants and flavonoids. It's got a classy and sweet flavor that gives it a mellow taste.
This loose leaf is sourced from the Finest Certified organic high-elevation plantations in Darjeeling. Has been labeled FTGFOP which is an excellent grade of tea.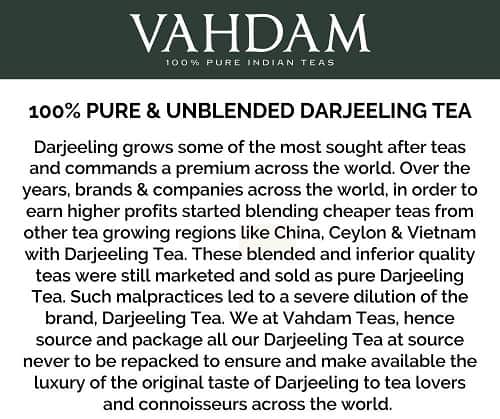 Vahdam green tea leaves come in a lined bag and smell very fresh. It is completely free of pesticides and packaged fresh for sale.
It can serve up to 50 Cups.
If you're interested in losing weight then get this green tea as it helps in the detoxification and supporting your weight loss goals.
This green tea also contains a very effective antioxidant, vitamins, immunity, and helps to reduce indigestion. It also helps to ease your stress, reduce or anxiety and improve your memory.
The Vahdam organic loose leaf green tea comes in many different flavors namely:
Assorted leaf teas
Chain tea bulk pack
Chain yea sampler
Earl grey tea bulk pack
English breakfast bulk pack
Imperial white tea
Nilgiri bulk pack
Kashmiri kahwa masala chain
Organic green tea leaves.
They changed their name from "Golden Tips" to "Wahdam" for some reasons.

What are the benefits?
There are a lot of benefits attached to the use of green teas and the Vahdam organic green tea leaves are not an exception. It has its own health and psychological benefits.
It is considered World's Finest – Darjeeling Loose Leaf Green Tea.
Helps in detoxification of your system
Helps to induce calmness
Enhances your memory and focus
Boosts your energy levels and endurance
Refreshes and rejuvenates you
Anti-ageing
Fortifies your immune system
Cardiac benefits
Anti-diabetic.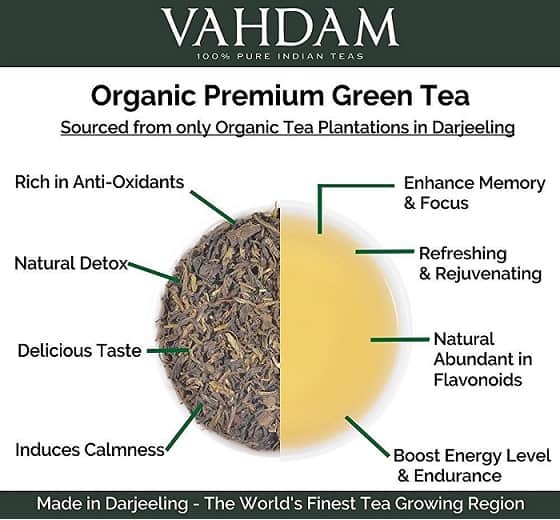 Who should use this product?
The Vahdam organic green tea leaves have a lot of nutrients that everyone could benefit from. However, it is advisable that you don't feed this to your kids. And if you are pregnant, you should consult your doctor before taking this tea.
Also, if you're sick and on other medications, you might want to consult a physician before taking this drug. Outside of this, if you are suffering from anxiety and stomach upsets this tea will be good for you. It's a vegetarian tea so anyone can take it.
The tea is minimally processed and in the original raw form of the tea leaf. Hence, it is vegetarian and gluten free.
Proof that it works!

This Vahdam organic green tea leaves rates 4.5 out of a 5-star rating which shows that previous customers have good things to say about the product. The internet is also a great way to find out yourself if it really works, so in case of any doubts just check it out.
Furthermore, the online markets give an opportunity to customers to tell what they think about the products after being used. So you can read their reviews and make sure that you have self-confirmation before purchasing.

How to prepare?
Preparing this green tea is possibly the simplest thing you've ever done. All you have to do is get properly filtered water and boil.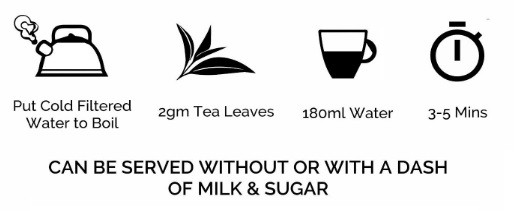 Measure out 2gm of tea leaves and put in your bowl or mug.
Measure 180gm of the boiling water and pour over the tea leaves
Wait for about 3-5: minutes and you're ready to go.
This tea can be taken 2-5 times daily depending on your body system.
Ideally, 1 teaspoon tea leaves /about 2 grams of leaves is ideal for a green tea preparation. (50 cups) can be prepared in 100 gms.
The Side Effects
This product is an organic green tea and there's hardly any green tea without caffeine. Therefore it is important that you don't take an overdose of it.
Effects that may occur due to overdose include insomnia and stomach upset. Also, taking this tea while undergoing other medications may cause problems for you, so be sure to consult a doctor on this matter.
My Final Verdict
Product Name: VAHDAM Organic Green Tea Leaves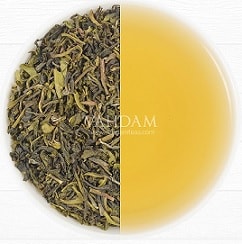 Price Today: Check here
Brand: Vahdam Tea
Quantity: 3.53oz
Money Back Guarantee: 100%. 30 Days.
In my opinion, living a healthy and happy life is simply dependent on how you treat your body. You might be able to do this in many ways and not that other ways are not good, but people have their preferences and some others are up to trying something new.
The Vahdam organic loose leaf green tea is a natural health supporting tea that helps to build your immune system, gives you a clear and sound mind and also helps you lose weight and live that happy life that you desire.
Just to be sure that this purchase won't end up in regret you can read the reviews about this product from online markets and the internet in general.
And so if you are trying new ways to treat your body, or you have tried many others and haven't found the right one, then this green tea might just be for you.