There's a lot of information about how loose leaf tea is better than regular tea bags. This is because loose leaf is fresher and more nutritious than tea bags. However, it requires more equipment to brew and it generally costs more than tea bags.
So, we can say that loose tea is a greater value for your money. We all know that numerous health benefits of green tea and how it is great for the body but do you know that taking loose tea can be even better for you?
If you are a tea lover, you would have noticed the difference in the flavor and taste of loose tea especially when you take the tea bags of the same brand.
It is important to note that the advantages of loose leaf tea over tea bags are not just mere speculations. The content of tea bags are limited by the size of the bag itself but the loose leaf is not limited in any way.
This leads to higher nutrient extraction in the loose leaf and this also accounts for the richness in taste and flavor.
If you are a tea lover, you would like to try out the Tao of Tea, Pearl Green Tea because it is a highly nutritious loose leaf tea with great taste and flavor.
About The Tao of Tea, Organic Pearl Green Tea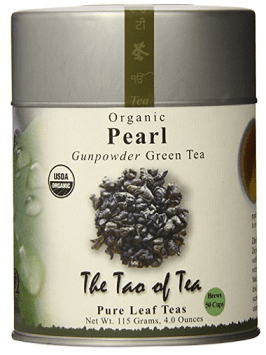 The Organic Pearl Green Tea is a loose leaf green tea that is of great quality. It comes in a 4.0-ounce tin.
This product is produced from organic green tea leaves grown in China. It is 100% pure and organic, free of additives or artificial flavors.
You should take this tea if you want to experience the full richness of organic green tea. This loose-leaf pearl tea is hand-processed and rolled into small pellets before it is packaged.
It has been certified by the USDA as an organic supplement.
It contains 35 to 40mg of caffeine per 8oz cup. This means it is also an energy booster and as such, you can take this tea when you are feeling tired or fatigued.
Pearl green tea is also referred to as the "Gunpowder" tea due to the shape of its tightly rolled leaves.
This tea is also a great way to start the day because it provides the body with the initial energy you need to carry out routine tasks effortlessly.
You should note, however, that the leaves are tightly wound and can only be hot water brewed. It wouldn't cold brew even if you let it for 10 to 15 minutes.
It's an organic dietary supplement which makes it a good news for all vegans. This product is gluten and gelatin free and as such suitable for all vegetarians.
Just like other loose leaf brands, the Tao of Tea, Pearl Green Tea doesn't undergo oxidation or fermentation, so you can be sure that it is fresh. This tea is highly flavored and very refreshing.
The Benefits
This product, in particular, is of great quality and has lots of health and fitness benefits too. You can reap all the health benefits of green tea from taking this organic supplements.
1. Natural Energy: The Tao of Tea, Pearl Green Tea contains up to 35 g of caffeine in every 8oz cup. The caffeine present helps to increase energy in the body. This supplement is great especially for individuals who constantly feel tired.
It is a natural energy booster that energizes the body with little or no jitters. This makes it an alternative to coffee and strong energy drinks that may be harmful to the health.
2. Improves Cardiovascular and Immune Health: Green tea has become very popular because of its effectiveness in cardiovascular and immune health.
The antioxidants present in this particular product helps to fight free radicals in the body's cells that may be harmful or cause diseases.
Daily consumption of this tea also reduces the body's cholesterol levels which are great for heart health and it helps to fight heart diseases too. Consistent consumption of this tea will help boost your immune system and keep diseases away.
3. Improves Metabolism and weight loss: Daily consumption of this loose tea is a great way to boost your body's metabolism. The catechin present in this particular loose leaf brand helps to increase metabolism rate and helps to burn more energy which can, in turn, help you lose weight.
The Tao of Tea, Pearl Green Tea is very effective for weight loss and the results are quickly visible when you combine this supplement with workouts.
4. Fights Cancer: Taking green tea also has anti-cancer benefits and this product is particularly great for it too. The antioxidants present in this product helps to fight against free radicals that can cause cancerous cell growth.
It also helps decrease the growth and spread of tumors and cancerous cells as it fights the radicals that fuels their growth.
5. Reduces Diabetes symptoms: Daily consumption of this tea can help reduce the glucose and lipids levels in the body. It helps lower cholesterol and blood sugar levels and as such is a great supplement for diabetic patients.

Proof that it works!

The Tao of Tea, Pearl Green Tea is a very nutritious and highly beneficial organic dietary supplement backed by numerous satisfactory reviews and a high product rating.
It has been USDA certified and is highly recommended by medical experts. It is also very affordable.
How to prepare it?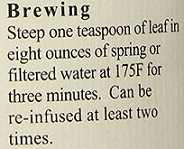 This loose leaf tea is hot water brewed and stepped for 3 to 5 minutes.
Just like other loose leaf tea, the leaves will unfold during the brewing process and should be filtered before serving.
Do not try to cold brew this tea, especially if you want maximum nutrients extraction.
Any Side Effects?
There are little or no side effects of taking green tea in the right amount. The Tao of Tea, Pearl Green Tea is a very safe organic supplement and can be consumed by almost anyone.
However, caffeine intolerant individuals should watch out because it contains caffeine. Also, individuals on medication should consult their physician because this product is not intended to prevent, cure or diagnose any disease.
Just like other loose leaf brands, there are cases of stems and twigs in the tea bags.
Final thoughts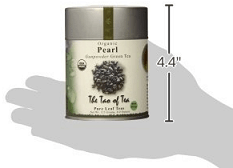 Product Name: The Tao of Tea, Pearl Green Tea (Loose Leaf)
Price: Check here
Brand: The Tao of Tea
Quantity: 4.0 Ounce Tin
Money Back Guarantee: 100%. No questions asked.
Loose leaf tea is a great choice for all tea lovers especially if you want to maximize the health benefits of taking green tea. Every cup is highly flavored and very refreshing. The Tao of Tea, Pearl Green Tea is a great product and it is very affordable.
Since it comes in a small tin (4oz), it is great for first-timers to try out the flavor of the loose tea.