In the midst of our busy schedule, fixing a doctor's appointment or even going to the gym could turn out almost impossible. But in all, we have to find a way to cure all the hidden problems, lose excess weight, repair worn out tissues, and keep our hearts in check.
We can only do this by some easy and effective means, hence the development of food supplements and herbal teas. These supplements and teas have several benefits that cannot be ignored for obvious reasons.
About NOW Foods EGCg Green Tea Extract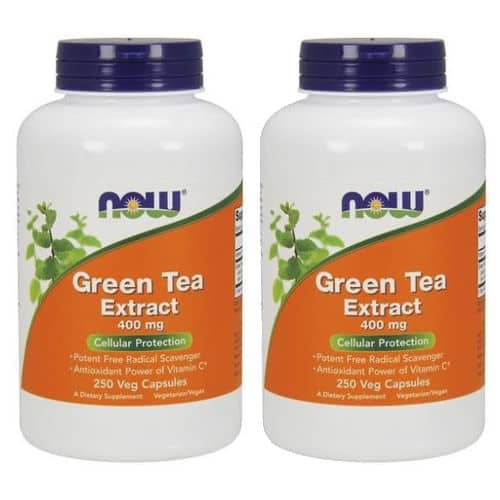 The NOW foods EGCg green tea extract is a very good vegan food supplement that contains green tea extracts, cellulose, and magnesium stearate from vegetables.
It also contains compounds like catechins (specifically the EGCg 200mg) and polyphenols that provide potent antioxidant benefits, in addition to anti-cancer, anti-aging, and anti-Alzheimer's benefits.
With all this in one Vcap, you have a great treatment and food supplement, that nourishes and helps in cellular health.
It is a 400mg bottle with 180 Vcaps.
One capsule of NOW Green Tea Extract with 200 mg EGCg possesses the phytonutrient content equal to about 2-3 cups of green tea.
It is said that the EGCg extract contains no sugar, salt, starch, yeast, wheat, gluten, corn, soy, milk, egg, shellfish or preservatives.
Who should take this product?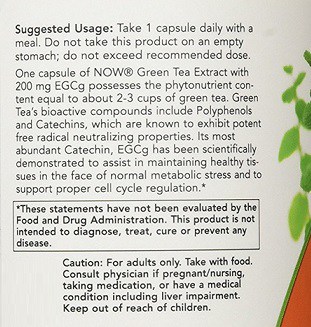 Now Foods EGCg green tea extract can be taken by adults, students, working-class people, and the aged ones. It can also be taken by convalescent recovering from illnesses such as cancer and other terminal illnesses.
Also, this green tea extract supplement is a vegan product so anyone can take it.
It's safe to say that a wide variety of people can take this medicine, however, those recovering from liver problems and anyone taking any medication at all shouldn't consume this tea, or should verify from their physician before doing so.
It is strongly recommended that you take the supplement with food. Do not eat the freshness packet (keep away from children), rather, keep in the bottle.

Benefits of the EGCg Green Tea Extract
There are certain benefits associated with using this green tea capsule and even though some of them have been stated above, it's important that we discuss them in detail so you'll know what you stand to gain and not lose it out of ignorance.
Heart Benefits
The intake of Now foods EGCg extract helps to reduce cholesterol levels and if you don't know what cholesterol does to your body, then know now!
It's caused high blood pressure slowly blocks your veins and arteries which reduce the speed with which your blood flows and hence the increase in blood pressure.
Secondly, the polyphenols in green tea ease blood circulation and reduce risks of heart attacks, strokes, and other heart-related issues.
Green tea contains a catechin called epigallocatechin gallate or EGCg that helps to burn fat for energy.
Each capsule of this supplement would be enough for 2 cups of green tea, so believe it when I say; this supplement can work weight loss magic.
Now Foods green tea extract is also superb at protecting and regulating your body cells and tissues. It helps to keep them safe from negative environmental impacts and possible infections.
Research has also shown that women who take green tea for a long period of time are at less risk of having ovarian cancer.
This 1st isn't necessarily mean that if you have a history with it from your lineage that green tea can eradicate It. It just means that if you've never had it, and your family members haven't either, you'll be at even lesser risks of having it at all.
During the cold weather some people easily get the flu and spread it to others as well but with this green tea extracts, it can be combated. No need to spoil a perfectly cool party with the flu.
Mood swings and Depression
A lot of people have issues with their mood and it can cause a lot of problems for the individual in question ranging from suicide attempts to absent-mindedness. But with this supplement, you can avert the depression and feel better.

Proof that it works!

Thankfully, today we have the internet and so if anyone buys a new product, they can write a review about it stating what they like about the products or otherwise.
All these reviews are good proofs that Now Foods EGCG food is reliable and efficient. Read what other customers say about the product.
The Side Effects

So far, no serious side effect of this drug has been recorded. However, it is likely to cause nausea because of its caffeine content. However, it is very important that you check with your physician before combining this drug with any other.
Also, remember to take this drug alongside a meal, to reduce the possibility of an adverse effect.
Another possible side effect of green tea extract is diarrhea. The caffeine in the green tea could possibly cause diarrhea and so it's important that you maintain the prescription given to you by your physician and make sure that you do not take this supplement on an empty stomach.
Please Note: If you're going to purchase this supplement for someone who'll be taking it for dietary purposes or even for yourself, then it's best to take one Vcap daily after the long night's fast.
However, do not take it on an empty stomach and do not take beyond the recommended dose.
It is also advised that this tea be taken in combination with other supplements your physician prescribes or NOW AHCC, Immune Rene, and Mangoni.
Avoid taking it with yogurt or milk as it does not strive in a non-acidic (basic) environment. On the other hand, for more bioavailability, you can take with coffee, orange juice or similar substance.
My Final Verdict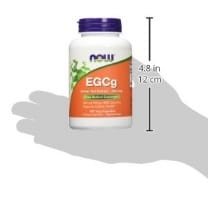 Product Name: Now Foods EGCg Green Tea Extract
Price Today: Check here
Brand: NOW Foods
Quantity: 400mg, 180 Vcaps
Money Back Guarantee: 100%. No questions asked.
Like I said at the beginning, some people just want something that will help them health-wise and psychologically, but also save their time as they're mostly too busy to see a doctor or work out.
So, they usually just prefer an option that wouldn't stress them and give them what they need.
So, while others just want to brew their own tea, some people just prefer to take the capsule once every day and move on with their lives.
Now Foods EGCg supplement mentioned above has its roots in awesome green tea extracts and so much more ingredients that will help to nourish and keep you safe from aging, and from cancer.