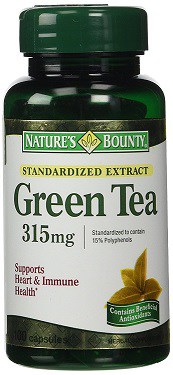 Nature's Bounty Green Tea extract is composed of naturally occurring Epi Gallo Catechin Gallate (EGCG), polyphenols and catechins.
This formula works well with the natural rhythm of the body to support and improve wellness. Commonly found in the hands of weight loss and fitness enthusiasts.
For its potency, the nature bounty serving size is normally 2 pills. Both pills are made up of 630 mg (315 mg per pill) of green tea extract and optimized to contain 95 mg of polyphenol and 58mg of EGCG. It contains 65mg of caffeine.
Other ingredients used in synthesizing this formula include dicalcium phosphate, maltodextrin, gelatin, silica and vegetable magnesium stearate.
Contained in each capsule are herbal supplements with EGCG and natural whole herb which promotes the antioxidant protection and provides health-enhancing properties.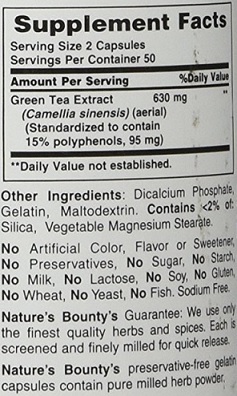 One beneficial supplement that the green tea extract contains is the flavonoids which are natural phytochemicals.
Nature's Bounty Green Tea Extract comes in three sizes. Known for its quality, it is commonly sold at many stores.
The label on it indicates the absence of artificial color, sweetener or flavor. This product was manufactured not to contain sugar, starch, milk, lactose, soy, gluten, wheat, yeast, fish, preservatives and it is also sodium free.
One very good thing about nature's bounty green tea extract is that consumer labs have tested and found the capsules to be just as claimed.
You should be aware that the two pills contain 58 mg of EGCG, which is actually less than taking a single cup of green tea.
The Benefits – Nature's Bounty Green Tea Extract
Nature's Bounty Green Tea Extract has the EGCG contained in it and also a powerful antioxidant that is

200 times more effective and potent

than commonly used vitamin E.
It contains thermogenic effects that

assist a great deal in weight loss

without any form of side effects or resulting in other side effects.
Rich in bioflavonoid, this green tea extract

fights off respiratory and digestive infections

.
This formula

helps to reduce hormone activity

and poses to be an effective medication for treating acne.
The leaf from which these capsules were synthesized are anti-bacterial which

reduces inflammation, lowers cholesterol and blood pressure

.
Some cancer forms which include colon, stomach, and pancreatic cancer can be prevented using this taking these capsules.
This formula

stimulates and enhances the immune system

and then helps the body to defend itself against dental plaque.
Taking these capsules helps to

protect your body against damage to the liver. 

New Research also says that it helps prevent the failure of liver transplant in patients.

Proof that the product works!

This product has been tested and proven to be effective. On Amazon, you will find so many consumer reviews who have spoken so well about the benefits of this green tea.
A particular user who was said to have chronic lymphocytic leukemia around March this year shared his experience.
As part of his medication to assist his recovery, the clinic which diagnosed him recommended the addition of green tea to his recovery. He went on to say that after a while of taking this supplement, his blood count improved so well. Isn't that awesome!
Other users have also attested to the effectiveness of this herbal capsule. Energy levels have been said to be improved and the immune system has been noticed to become stronger.
How much to take it?
It has a very simple way of preparation. For adults, you are expected to take two capsules twice a day and it is preferable you take them before meals.
You can take them as herbal supplements or you can open capsules and then prepare as tea.
The Side Effects
Notwithstanding, it contains caffeine and should not be taken by individuals that have conditions that can become more complicated. But if they must, they should seek the advice of a medical practitioner before using this tea extract.
Some of the side effects of excessive caffeine intake include the following:
Stomach problems
A mild and serious headache
Anxiety, nervousness and sleep problems
Irregular or accelerated heartbeat
Vomiting
Diarrhea
Dizziness
Heartburn
Diabetes
High blood pressure
Liver diseases
Pregnant women are also advised to seek proper directions from the doctor before taking the green tea extract. Drinking more than 2 cups of the extract increases the chances of miscarriage and other negative side effects.
For individuals taking MAOI inhibitors also known as antidepressant should avoid the intake of this herbal supplements because of the negative reactions associated with it.
The tannins present in the green tea extract can block the absorption of nutrients like fats and protein in children. The caffeine in green tea could also lead to over stimulation.
My Final Verdict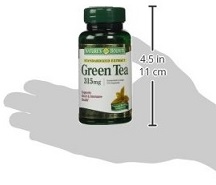 Product Name: Nature's Bounty Green Tea Extract
Price: Check here
Brand: Nature's Bounty
Quantity: 100 Capsules, 315 mg (Pack of 2)
Money Back Guarantee: 100%. No questions asked.
For so many years, green tea has been taken by the Chinese for treating body ache, headache, poor digestion and used to improve the well-being and the life expectancy of the user.
Do you want to live long and healthy? If this is your wish, then this herbal supplement really comes in handy.
One other benefit of the green tea extract is its ability to reduce the chances of heart disease and cancer.
In conclusion, Nature's Bounty Green Tea extract has proven to enhance the body's immune system and protect the body against so many life-threatening diseases.