Having a green tea or green tea extract that works for you is like having a good companion that adds value to you and never leaves your side.
I have read about so many green teas and I can tell you that there are indeed a lot of them – the good, effective, and not effective at all.
And so sometimes rather than bother your pretty head over which green tea to pick, we just pick the supplement which seems like an easy choice; but in the end really isn't.
Making a choice when it comes to green tea extracts is just another issue that equally causes as much confusion as picking the regular planned green tea but that's not a problem anymore.
About Life Extension Mega Green Tea Extract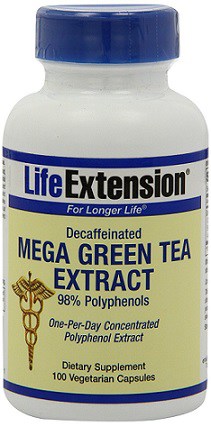 The life extension mega green tea extract is a very powerful supplement with antioxidants that help to protect your cells from oxidative damages.
The green tea contains the polyphenols that help to promote health condition, that is the EGCgs, and they are the most powerful antioxidants at the moment.
As a matter of fact, the epigallocatechin gallate (ECG) is the most researched topic when you talk about green tea.
This antioxidant has great effects and is more beneficial than the effects of vitamin C and E. Meaning, that every capsule of the life extension mega green tea is 3 cups of green tea out together.
Other ingredients contained in this green tea extract are vegetable cellulose, vegetable stearate, and rice flour. It contains 100 vegetarian capsules.
The mega green tea is good for your liver as it helps in its detoxification, help to build and groom your immune system, and then supports a good cholesterol level.
The supplement supports cell membrane integrity.
This life extension mega green extract is a decaffeinated supplement and we all know that even though it's decaf, there's still a small amount of caffeine in it.
The botanical extract in Mega Green Tea Extract has been concentrated and dual standardized to ensure the highest quality, consistency, and biological activity.
Each serving contains a small amount of caffeine (max 3.6mg). Since one cup of decaffeinated tea contains at least 9mg of caffeine, the amount of caffeine in this supplement will most likely not induce a stimulating effect.

Benefits, who the product is for?
The Benefits of this product includes:
Stabilizing fluid properties
Helps to combat reactive oxygen species like the hydroxyl, superoxide, and peroxyl radical
Promote weight loss
Maintain a healthy cell proliferation
Maintain good cholesterol and brings down LDL cholesterol level.
Helps to protect brain tissue.

The life extension mega green tea extract can be taken by a wide range of people but should be kept away from children. The supplement can be taken by convalescent on doctors prescriptions. Especially those who are hoping to rebuild their cell tissues.
Those with liver infections can also take this supplement to help in detoxification.
Those who are hoping for a little calm can get this supplement to treat that anxiety, and lift their moods. You can also take this drug if you plan to shed some weight. Over time, you'll enjoy the benefits.
Do not take this drug if you're undergoing any other medications. Take only on the advice of your physician.
Do not take this supplement without food if you have intestinal ulcers. It may cause nausea and stomach upset. If you take one tablet a day and find that it's too effective and keeps you up at night, then you might want to take half a capsule daily so you can sleep at night.

Proof that the product works!

The life extension mega green tea extract is a product is rated 4.1 out of five stars and I think that's a really good proof.
Apart from that, there are also reviews from online markets that you could read to be sure of the product you're purchasing. By reading them, you'll get the proof and confirmation that you so desire.
Another way to chase your doubts is to call the company and get direct answers to every question about the problem that you might be facing.
How to prepare it?
Some people take one capsule every day without food or half a capsule per day. If this prescription doesn't work for you, then consult a physician to give you proper directions.
Ensure that you don't take beyond the prescription the doctor has given to you.
The Side Effects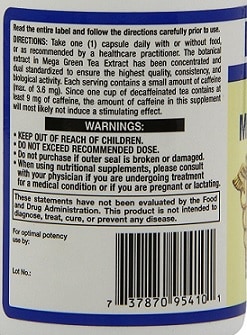 Do not take outside doctors prescriptions as this may cause serious stomach upsets. Also, ensure that the seal is in place during purchase as the quality of the product might have been compromised.
Using this supplement without consulting your physician especially when you're treating another ailment could result in serious complications.
While some people consider the mega green tea very effective, some others think its slow to action. This may be due to the fact that it's decaffeinated.
You may also experience some nauseous feelings if you take the product without food, hence the advice to consult your physician.
The picture of the bottle on Amazon says to take it with or without food. I highly recommend taking it with food. No other side effects besides that one.
My Final Verdict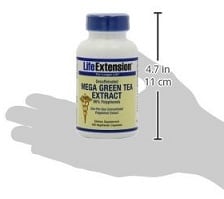 Product Name: Life Extension Mega Green Tea Extract
Price Today: Check here
Brand: Life Extension
Quantity: 100 veg caps
Money Back Guarantee: 100%. No questions asked.
Green teas extracts today have evolved from one stage to another due to different researches carried out. Year after year new supplements are being manufactured and each with a new change to its flavor, ingredient, or even sizes.
The life extension companies have made it a point of duty to manufacture effective products no matter the modifications, ensuring that quality and consistency doesn't drop.
The life extension mega green tea extracts has proven to be very effective yet mild in actions. It's got detoxification abilities, encourages weight loss and the fact that its decaffeinated helps to keep you alert without taking your sleep time away.
So, if you are still looking for that perfect green tea product with a good quality, I hope that this does justice for you and I also hope that when you purchase this product you'll also have nice things to say about it.