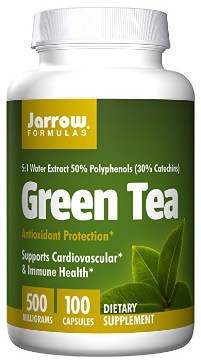 The Jarrow formulas green tea extract is a purely natural supplement that has contributed to healthy lifestyles of individuals.
It is free from additives, and a great supplement safe for anyone.
Contains 5:1 green tea extract capsules that provide full antioxidant protection.
Contains catechins that support 24 hours energy.
This natural dietary supplement contains 500mg 100 capsules and is worth every penny it costs.
It also

detoxifies the body

and supports the immune system.
This product is water extracted comprises of 50% polyphenols and 30% catechins, 15% of which is the important EGCG fraction. The polyphenols in
This green tea is very potent antioxidants and

helps support cardiovascular and overall immune health

.
It is imperative to note that the capsules contain about 40mg of caffeine and is therefore not recommended for individuals with medical conditions or intolerant to caffeine.
Individuals that are hypertensive, pregnant, lactating, trying to conceive or having any form of cardiovascular abnormality are strongly advised to abstain from this product or consult a doctor before consuming it.
This dietary supplement does not contain wheat, gluten, soybeans, egg, fish/shellfish, nuts and is absolutely free from dairy products. However, it contains some amounts of cellulose, magnesium stearate (vegetable source) and silicon dioxide.
Besides this, it has been recommended for use by numerous satisfied customers and health experts for its effectiveness in raising energy levels and boosting the immune system.
It is a great supplement produced from extracts of Camellia sinensis and consuming it will allow you enjoy all the health and nutritional benefits of green tea. Take 1 daily for great results.
Unlike other tea supplements, this product is quite easy to consume. No brewing is required, and all you need to do is to daily swallow a single 500mg capsule to enjoy its full benefits.

The Benefits of Jarrow Formulas Green Tea Extract
There are various health benefits of taking green tea and the Jarrow formulas green tea extract is not an exception. As a matter of fact, it has some additional benefits with regards to raising energy levels.
Some of the benefits of consuming this product are listed below.
Provides Energy
This product contains up to 40mg of caffeine which is a great energy booster. The good thing about drinking this green tea is that it provides sufficient energy without jitters.
Unlike your regular caffeinated energy drinks, the Jarrow formulas green tea is a natural supplement that also contains numerous nutrients that are beneficial to the body.
On this note, the increased energy level is an additional plus.
Weight loss
This green tea has also been very helpful for weight loss. As a matter of fact, a recent consumer has referred to it as a "fat burner". Daily consumption of this product is great for the body's cholesterol levels and as such aids in weight loss.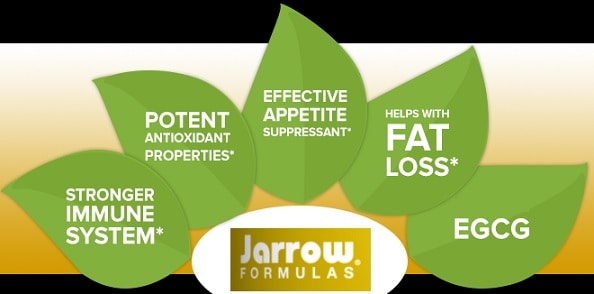 It is also a mild appetite suppressant and as such is very healthy for anyone with a weight loss routine.
Great antioxidant
Just like other natural supplements, the Jarrow formulas green tea extract is an excellent antioxidant and has been highly recommended in this regard.
Daily consumption will ensure that you have a steady amount of energy throughout the day.
Supports immune health and detoxification
Consumption of this green tea also helps support the immune system and as a result, helps prevent the body from diseases and infections. It comprises of numerous vitamins and proteins that are very beneficial for overall body's health.
Proof that it works!

The Jarrow formulas green tea extract has been highly recommended by physicians because it is a very effective dietary supplement that boosts the immune system.
It has numerous satisfactory customer reviews and is also backed by a 4.5-star rating. This means that your satisfaction is guaranteed when you consume this product.
Because it is a natural supplement, it is very safe, and there is absolutely no age restriction for using it.
The Side Effects
The side effect of consuming this product varies depending on the individual. Just as mentioned earlier, this should not be consumed if on medication, except it is consented to by a physician.
Also, since it contains 40mg of caffeine, side effects may occur in individuals that are intolerant to caffeine. Symptoms such as vomiting, constipation or dizziness may occur in such cases.
Also, another drawback of this product is that it is not entirely safe for pregnant or lactating women. Even individuals with cardiovascular problems or abnormalities are strongly advised to consult a physician before consuming this product.
It is very important for strict vegans to note that this supplement contains gelatin (which comes from animals).
On this note, it might not be appropriate for vegetarians. If you are in this category, you should look out for the words "vegetable capsules" or "Vegicaps" on a supplement label so you can be sure it is not made from gelatin.
My Final Verdict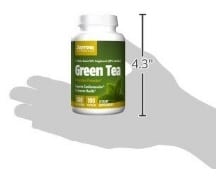 Product Name: Jarrow Formulas Green Tea Extract
Price Today: Check here
Brand: Jarrow Formulas
Quantity: 100 caps, 500mg Bottle
Money Back Guarantee: 100%. No questions asked.
Consuming daily doses of natural supplements is one of the best ways to boost the overall health of the body. Apart from increasing energy levels for the day, consumption of the Jarrow formulas green tea extract would boost your immune system in the long run.
However, if you have a condition or are currently on medication, you should probably wait it out or consult your doctor before consuming this supplement.