Moringa oleifera, also known as drumstick tree or popularly known as Moringa, is a small tree from India that has been in use for a very long time.
In eastern countries, it is being used for treatment and prevention of diseases such as heart disease, arthritis, anemia, liver disease, digestive disorders and numerous others.
The moringa plant has in recent times gained a lot of popularity because of its high nutritional value. It can be grown or cultivated easily in almost all parts of the world.
All the parts of the moringa plant including the seeds, leaves, stem, and bark are useful and highly nutritional. These parts are processed into various forms of natural supplements that are used in different ways to cure or prevent certain medical conditions.
It is one of the most nutritional natural supplements and it has numerous health benefits too.
About Global Moringa Tea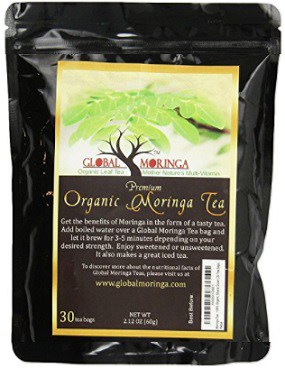 The moringa tea is one of the most popular supplements produced from the drumstick tree. As a matter of fact, it is one of the most nutritious teas available today.
This product contains 30 tea bags which is sufficient for a single serve cup.
The tea powder is produced from processed fresh moringa leaves organically grown in Ghana. It is 100% natural, does not include any form of additives and is free from caffeine.
It is a non-GMO and pesticide-free tea which makes it safe for everyone.
Organic Moringa Tea comes as a finely ground (almost powder) moringa in tea bags. It is highly rich in essential proteins and vitamins that the body needs.
This tea is can be easily enjoyed by brewing the tea bag in hot water for 3-5 minutes depending on your desired strength and also has a great herbal taste.
It can be taken sweetened or unsweetened depending on your taste.
Moringa is available in five delicious flavors; lemongrass, moringa with ginger, moringa with mint, original and single server cup original.
People are also using Moringa oil for hair and body lotion treatments.
You should use this product if you are feeling tired or fatigued. Moringa tea will also help you recover from hard workouts.
P.S.
If you are in any form of medication, it is ideal that you consult a physician before taking this product.
If you are pregnant or breastfeeding, hypoglycemic, diabetic, or suffer from hypertension you should consult with a doctor before use.
This product is not intended to diagnose, test, cure or prevent any disease.
It is 100% organic and you can be sure to enjoy all the full nutrients and benefits of moringa.
Benefits of Moringa Tea
The moringa tea is 100% natural and as such contains all the nutrients present in the plant. There are various health benefits of taking the moringa tea.
Supports brain health: Moringa contains vitamin C and E in amounts high enough to fight oxidation that can lead to neuron degeneration, thereby improving brain function. It can also normalize neurotransmitters and noradrenaline in the brain which is essential for mood, memory, response to stimulus and overall mental health.
Fights inflammation and free radicals: Moringa is a great antioxidant that helps fight free radicals that cause cell damage and inflammation. Some of the antioxidants present in moringa leaves include flavonoids and ascorbic acid.
Studies have shown that the leaf extracts contain more antioxidants than extracts from other parts of the plant. The Global moringa tea is made exclusively from fresh moringa leaves.
Consumption of this tea would help prevent the damage that can be caused by free radicals, keeping the body organs healthy and functioning properly.
Moringa also reduces inflammation by suppressing the inflammatory enzymes and proteins in the body.
It reduces diabetes symptoms: Moringa leaves have been very helpful in reducing the levels of lipids and glucose in the body. On this note, it can help reduce the signs and symptoms of diabetes. It can also regulate oxidative stress in diabetic patients.
In other words, consumption of moringa tea would lead to lower blood sugar and cholesterol level which is good news for diabetic patients.
Protects the cardiovascular system: The moringa leaf also has heart-healthy benefits. It helps to control lipid in the blood and also prevents plaque formation in the arteries. Reduced cholesterol level is one of the core benefits of consuming moringa and this is very healthy for the heart too.
In order words, the moringa tea also helps to protect the cardiovascular system.
Antioxidant and rich energy booster: One of the immediate benefits of consuming moringa tea is that it is a rich energy booster. Moringa contains numerous nutrients that can boost the body's natural energy. This means that daily consumption of this tea would give you the right energy to start your day.
One good thing about it is that is completely natural and can be consumed by anyone, especially if you want to stay healthy.

Proof that the Moringa Tea works!

Having surfed the internet and gone through numerous customer reviews about the moringa tea and a first- hand knowledge of the product, I can safely say that the moringa tea is everything it is advertised to be and more.
It is a superfood that contains numerous essential proteins and vitamins that are very useful to the bodies and as such is now being used for preventive and curative purposes.
It is hereby highly recommended for its countless health benefits.
How to Prepare Moringa Tea?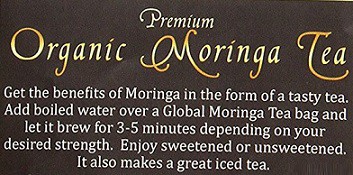 Moringa tea is powdered and prepared from drying fresh moringa leaves at a room temperature. The dried leaves are then pulverized and ready to serve.
It can be served with hot or cold water depending on your taste and preference. Adding a sweetener also depends on the individual.
To prepare the tea, add the moringa tea bag to the boiling water and let it brew for 3-5 minutes. If you want to strengthen it more, you can brew it more for a minute or two.
This tea is delicious! Goes great with honey, lemon, and a little cinnamon.
However, the moringa tea has a really great flavor and can be enjoyed by almost everyone.
The Side Effects
Consumption of moringa tea is mostly safe especially when it is taken orally and correctly. The side effect of using moringa tea varies from person to person and most times may be as a result of an existing condition.
For instance,
It is likely unsafe for pregnancy and nursing mothers to use the root or bark or any other part of the plant apart from the leaves. On this note, consumption of moringa leaves is safe when it is used appropriately.
The taste is not too pleasant so if you're taking it for the first time,

you may have the gag reflex

.
It may also cause nausea when consumed in large quantity.
My Final Verdict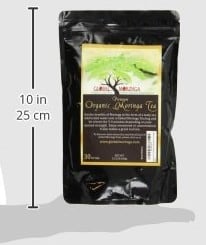 Product Name: Organic Moringa Tea
Price: Check here
Brand: Global Moringa
Quantity: 30 Tea Bags
Money Back Guarantee: 100%. No questions asked.
Moringa is a very nutritional supplement that it is also non-toxic and has little or no side effects. Consumption of moringa tea is a healthy habit and should be cultivated and maintained.
It is 100% natural and organic, very beneficial for overall health and is also very affordable.
It would also make a great substitute for tea or coffee.